Online Counseling Therapy for Codependency: What is Codependency, Really?
If you ask ten therapists this question, you're liable to get ten different answers, which is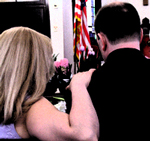 why codependency is so difficult to understand. Here is my way of explaining codependency. Read it carefully to grasp the full meaning of being a codependent: It is a strategy for getting needs met in relationships that is based on mistaken and flawed rules/beliefs that prevent codependents from having healthy relationships.
"Codependency is a strategy developed by individuals, usually children under duress, for obtaining love or approval from troubled caretakers or peers. This strategy is composed of erroneous decisions, beliefs, and rules that eventually become preconscious core beliefs that guide codependents in their attempts to get their needs met in relationships. Since this strategy is based upon erroneous rules about how healthy relationships are created, codependents are doomed to failure in their quest for love, which is why they often feel depressed, stressed out, and anxious about their relationships."
Typical Codependent Beliefs/Rules
I must never ask for what I want. That would be selfish or dangerous. Besides, my needs and feelings are bad and/or a burden to others.

I must never say "no." That would be selfish and/or mean, and then no one would ever love me.

I can make a relationship work all by myself. I can fix other people. I can make them happy.
Healthy Relationship Beliefs/Rules
All relationships are negotiations. To get my needs met in a relationship, I must be able to identify what they are and ask the other to meet my needs, and I expect the other to do the same. This is how we negotiate through identifying and communicating needs. My feelings and needs do matter, and so do the needs and feelings of the other.

I must be able to say "no" to behaviors in a relationship that are not acceptable to me, and I expect the other to do the same. Love is obtained through healthy negotiation and sharing, which leads to emotional intimacy.

It takes two people to make a healthy relationship. I cannot fix another; I can only fix myself. I cannot make another happy: I can only make myself happy.
Click below to hear Carl's 9-minute YouTube video explaining what codependency really it.
To view all of Carl's YouTube videos about codependency, click here.
If you identify with the codependent beliefs more than the healthy beliefs, then you're probably codependent and online counseling would benefit you. The good news is that codependency is very treatable. Why? Because you already care deeply about others, and in online therapy with me, a licensed professional counselor AND recovering codependent, you will learn how to take care of yourself, which will lead to healthier relationships and a more fulfilling life. Click on the photo below to begin therapy.