Taming the Mind: The Path to Serenity
Taming the Mind is the title I have given to a quotation from the Bhagavad-Gita, a core sacred test of Hinduism, which offers wisdom for the modern world. Anxiety, depression, and anger are fueled by patterns of thinking such as catastrophizing, hopelessness and self-loathing, and victimization, respectively. To break the shackles of these debilitating emotions, one must learn to "tame the mind."
Taming the Mind
For one who has conquered the mind,
the mind is the best of friends;
but for one who has failed to do so,
the mind will remain the greatest enemy.
Bhagavad-Gita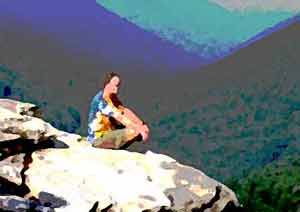 Feelings can be helpful or unhelpful. Helpful feelings give us direction, like a compass. Unhelpful feelings overwhelm us and are usually fueled by mistaken or irrational beliefs that ignite our helpful feelings into unhelpful ones - like throwing gasoline on a campfire. Emotional regulation begins with the realization that we have choices as to which thoughts and images to pay attention to - from the thousands our busy minds produce! Just because we think something doesn't make it true or important. Learning to detach from unhelpful or "stinking thinking" is how we tame our busy minds and develop emotional regulation. For related topics, see mindfulness, meditation, spam of the mind, and stress management.
If you would like help in learning to tame the mind, click on the picture below to see if online therapy might be right for you.