The Powerlessness of Compulsive Blaming: Being a Blame-o-holic
I'm sure you know people who compulsively blame others for their mistakes and poor decisions. If they screw up at work, it's because their boss is out to get them. If they flunk a test, it's because their professor is a lousy teacher. If they verbally abuse you, it's because you made them do it. If they have a drinking problem, it's because you were a bad parent.
Blame-o-holism is similar to any problematic compulsive behavior. Thus, just as alcoholics drink to self-medicate their pain, blame-o-holics blame to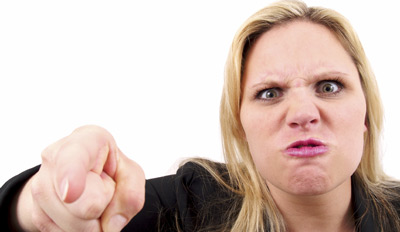 avoid dealing with their pain. Of course, nearly all addicts and alcoholics are blame-o-holics, but many blame-o-holics are not substance abusers.

Blaming is just what they do to avoid dealing with their repressed pain.

So, where does blame-o-holism come from? Well, it's one of many ineffective strategies people might learn, usually in childhood or adolescence, as they struggle to deal with significant emotional pain. But why do they continue using such strategies if they don't work? Well, it's because blaming does offer some immediate relief, but in the long run it only creates more pain. For example, if I learn to drink to numb my hurt, fear, and shame from growing up with an abusive, alcoholic father, it does give some short-term relief from my suffering, but over time I'll probably develop an alcohol problem that will negatively impact my relationships, work performance, and emotional stability. In a similar fashion, if I become a blame-o-holic and constantly point the finger at others as a way to push away my pain, it may give some short-term relief, but over time the chronic blaming will only increase my suffering, and here's why.

The big problem with being a blame-o-holic is that it makes you powerless! Thus, it keeps you stuck and prevents you from healing. How does this happen? Well, as long as I'm blaming you for my failures and mistakes, then the only way I can feel better is if you change, which I have no control of. Hence, by blaming you, I make myself powerless.

Now, I'm not saying that blaming others is never deserved. For example, if my father physically abused me as a child, he is to blame for the damage he caused me. But if I wait around for him to change and make amends, then I'm tying my health and healing to something I can't control. Thus, I must admit powerlessness over changing my abusive dad and empower myself to heal my own wounds. I must stop being a victim and become a survivor so I can heal myself and then become a thriver.

If you'd like help in escaping the prison of blame-o-holism, then click here to request online therapy.

Below is Carl's YouTube video (3:32) of this article:

To view all of Carl's YouTube videos about anger and addiction, click here.