Carl Benedict's Counseling Credentials
EDUCATION: I received a Bachelor of Science degree in Psychology from Ft. Lewis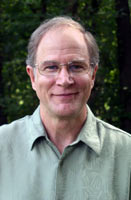 College in Durango, Colorado, and a Master of Science degree in Mental Health Counseling from Shippensburg University in Shippensburg, Pennsylvania. I received the prestigious award as the 1997 Outstanding Graduate Student at Shippensburg University.
LICENSURE: I am licensed by the Board of Professional Counselors and Therapists in Maryland to diagnose and treat mental disorders as a Licensed Clinical Professional Counselor (LCPC). My license number is LC0202 with an expiration date of 1/31/19. The Board's phone number is (410) 764-4735. See my license below.
COUNSELING EXPERIENCE: I worked at a mental health clinic in Hagerstown, Maryland, as a therapist from 1996 until 2007 offering group, family,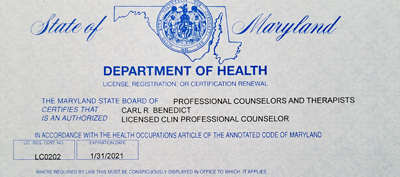 couples and individual therapy to adolescents and adults. I led an adult anger management group for five years and an adult dual diagnosis group for individuals with mental illness and addiction for nine years. Since leaving the mental health clinic, I have worked as a therapist at a local hospital, where I helped create a co-occurring disorders treatment program for individuals suffering from mental illness and substance abuse. For eight years, I also led a Concerned Persons Group for those who care about someone who is addicted. In addition, I have offered my counseling services through my online private practice, Serenity Online Therapy, since 2005.
THE MEDIA: I have appeared on radio and television to educate the public about panic disorder, agoraphobia, stress, anger, and dealing with a loved one who is addicted. My views on anger management have appeared in a local newspaper in an article about anger.
AREAS OF TREATMENT SPECIALIZATION:
- codependency
- mindfulness and meditation
- depression
- anxiety
- grief and loss
- panic attacks & agoraphobia
- stress management
- substance abuse and addiction
- impulse control issues
- anger management
- dual diagnosis (mental illness and substance abuse)
- adjustment to life changes
- Adult Child of Alcoholic (ACOA) issues
- posttraumatic stress disorder (PTSD)
- recovery from childhood physical and sexual abuse
- relationship problems
- parenting issues
- couples issues
- blended families issues
- 12 Step Program recovery issues
MY ONLINE PRINCIPLES: My online counseling practice adheres to the National Board of Certified Counselors' principles for online counseling put forth in the document Policy Regarding the Provision of Distance Professional Services.