Codependency: Loss of Self In Others
Codependency is a dysfunction that causes individuals to lose themselves in relationships. Codependents ignore their feelings, needs, and problems while obsessing on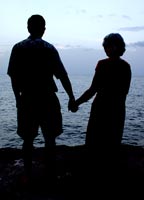 the feelings, needs, and problems of others. They possess an exaggerated sense of responsibility for others, and struggle with maintaining healthy boundaries. Thus, they experience relationships as stressful, and often suffer from anxiety, depression, guilt, and resentment.
Codependency is born of growing up in a dysfunctional environment. Family dysfunction occurs when overwhelmed parents are unable to meet the needs of their children to a significant degree over a significant period of time. The parents' problems may stem from addiction, alcoholism, mental illness, physical illness, poverty, overwhelming loss, or community disintegration such as gang violence or war. The key point is this: when parents become chronically overwhelmed by problems, the mental health of their children can be affected, sometimes resulting in codependency.
How does family dysfunction produce codependency? When parents exhibit problems that bring chaos to a family, the children are forced to abandon being children and must enter survival mode. In survival mode, children can become hypervigilent - that is, they compulsively scan their environment to detect the next threat to their safety and well-being.
These children quickly learn to ignore their feelings and needs because they perceive their caretakers as too overwhelmed to care about them. Or, worse, they have learned that they will be punished for expressing their feelings and needs. Thus, they reject introspection as a dangerous luxury that might interfere with being alert for the next external threat. Ultimately, these children learn to disconnect from their feelings.
Children of dysfunctional families come to believe they are responsible for their parents' problems. As a result they develop low self-esteem, believing themselves to be incompetent or undeserving of love because they have failed their troubled parents. In other words, they internalize their parents' problems as their own. As such, they develop unrealistic expectations about what is and isn't their responsibility, and about what they can and can't control in relationships.
Adult Children of Dysfunctional Families carry these distorted beliefs into adulthood. They feel over-responsible for everyone around them, including spouses, children, in-laws, and co-workers. They perceive the problems of others as their own - just as they did with their parents' problems. They are riddled with anxiety, stress, and guilt in their relationships. They ignore their own needs, feelings, and problems, and, thus, become depressed and resentful. Ultimately, they feel like failures - just as in childhood - because their goal of solving everyone's problems is unobtainable.
Codependency becomes an addiction when codependents subconsciously seek out troubled individuals as a way to avoid dealing with their own problems. By compulsively trying to "fix" an alcoholic, a codependent can feel, by comparison, like a healthy person with no problems. Yet, if the alcoholic goes away, the codependent will compulsively seek out another troubled person to "fix" in order to avoid his or her own feelings of low self-esteem and inadequacy. Like any addiction, codependency stymies personal growth as the codependent uses it to avoid dealing with emotional pain just as the alcoholic uses alcohol to avoid dealing with emotional pain.
Codependents are generally nice individuals who are very stressed from carrying the weight of the world on their shoulders. They are perceptive of others but not at all perceptive of themselves. Therapy with codependents involves teaching self-care skills, and most importantly, convincing them they are not selfish, or in danger, for choosing to take care of themselves.
If you think you suffer from codependency, then online counseling could benefit you. The good news is that codependency is very treatable. Why? Because codependents already know how to take care of others. Now they must learn to take care of themselves. Click on the photo below to begin therapy.