Shattered: A Poem About Emotional Healing
Shattered is a poem that describes the pain of grieving losses from childhood trauma as defenses and illusions melt away. It expresses what the great psychotherapist Fritz Perls meant when he wrote: "To suffer one's death and be reborn is not easy."
Shattered
It is lying all around me,
Shattered into useless pieces of glass
That could now rip my unprotected feet.
It was the glass castle in which I lived
As fairy princess and heroine in shining armor,
Ready and able to rescue all in need.
It was my fragile fantasy,
Designed to protect me from the searing pain
Of having never been rescued
From my own unspeakable distress.
But an invited guest came
And rammed my castle doors, besieged my walls
And shattered my glass defense.
And so, what I once thought of as my castle grand
Is now nothing more than unrecognizable jagged pieces,
And here I stand, exposed and stunned.
It is mine now, not to gather,
But to leave these shattered remains.
It is mine to find a way to live without this illusion.
It is mine to learn to be the peasant child that I am,
Bereft of shining armor and magic wand.
But all I can see at this moment
Are the broken pieces of my shattered castle walls,
And all I can do is weep.
author unknown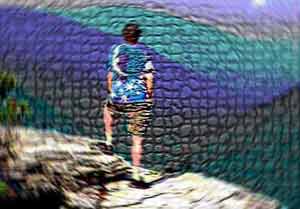 Traumatized children need adult intervention to heal and grow. When no such support is available, immature children must fend on their own as best they can. In the process, they will devise defenses, including illusions and mistaken beliefs, to cope with the trauma. These defenses frequently create problems in the long run. Therapy helps clients let go of these defenses and illusions in a safe and manageable setting - the therapeutic relationship - so healing from childhood trauma can progress.
Click below to watch my 5-minute YouTube video of this page - Inner Child Work: Letting Go of Childhood Illusions